30 Sep

Fall Beverages Entice Bloomington and Terre Haute with Delicious Flavors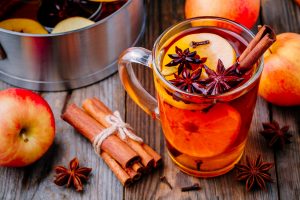 The arrival of autumn in Bloomington and Terre Haute means more than falling leaves, pumpkins, and cooler weather. Beverages with distinctly fall flavors also make their appearance. Since many of these delicious flavors including hot mulled apple cider and pumpkin spiced everything only seem to appear in September and leave by November, it's a great time to take a moment to enjoy them with friends and colleagues.
To meet all Bloomington and Terre Haute's employees' hot beverage needs, and not just those who love pumpkin, it's important to offer a variety of coffees, teas, and espresso-based beverages in the break room. In addition to traditional (and pumpkin) coffee and tea options, alternative fall flavors like apple, cinnamon and cardamom are also popular.
Mulled cider is one of those popular apple beverages. Enjoyed both cold and warm, mulled apple cider is made from fresh apple cider, cinnamon sticks, the peel and juice from an orange, whole cloves, and star anise, and delivers a unique flavor combination. Celebrating fall by offering mulled apple cider that has been heated in the break room not only results in a delicious aroma throughout the office, but it can also boost everyone's mood by creating a familiar experience.
For those who want to enjoy something other than pumpkin coffee or mulled apple cider, consider offering several of the following options.
Latte
In most cafés in Bloomington and Terre Haute, the term latte is short for 'CafeLatte.' In the beverages' most simplified form, it is "2 fluid ounces of espresso, 3 ounces of steamed milk, and typically a thin layer of foam on top."
vanilla bean with cardamom: espresso, vanilla bean, cardamom seeds and your favorite dairy or non-dairy milk
maple pecan: espresso, maple syrup, pecan butter and your choice of dairy or non-dairy milk
cinnamon dolce: espresso, cinnamon dolce syrup, whipped cream, and cinnamon dolce topping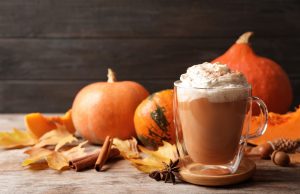 Tea
A tea latte is like a traditional latte except instead of using espresso as the base, a tea latte starts with brewed tea.
chai tea latte: black tea concentrate infused with your choice of cinnamon, cardamom, star anise, nutmeg or clove and combined with the steamed milk of your choice
apple chai: black tea concentrate infused with your choice of cinnamon, cardamom, star anise, nutmeg, or clove, but instead of steamed milk, use steamed apple juice to finish the beverage
Creamers
Pumpkin season tends to bring out a desire for flavors that aren't usually consumed year-round. Whether it's cinnamon, ginger or nutmeg, there are a lot of fall flavored coffee creamers, such as pumpkin spice, gingerbread, cinnamon vanilla bean, that can brighten your employees' day.
Your Bloomington and Terre Haute break room has the potential to offer more benefits for both employees and employers. For example, employees who can stay at the office for their caffeine pick-me-up are less likely to accidentally spend too much time away, decreasing productivity. Offering a customized refreshment menu with healthy and traditional snacks, cold beverages, and fresh food is just one way to encourage employees to stay at work when they need something to eat or drink.
For more information about our break room refreshment services, please contact JR Davis Vending at 812-847-2030.